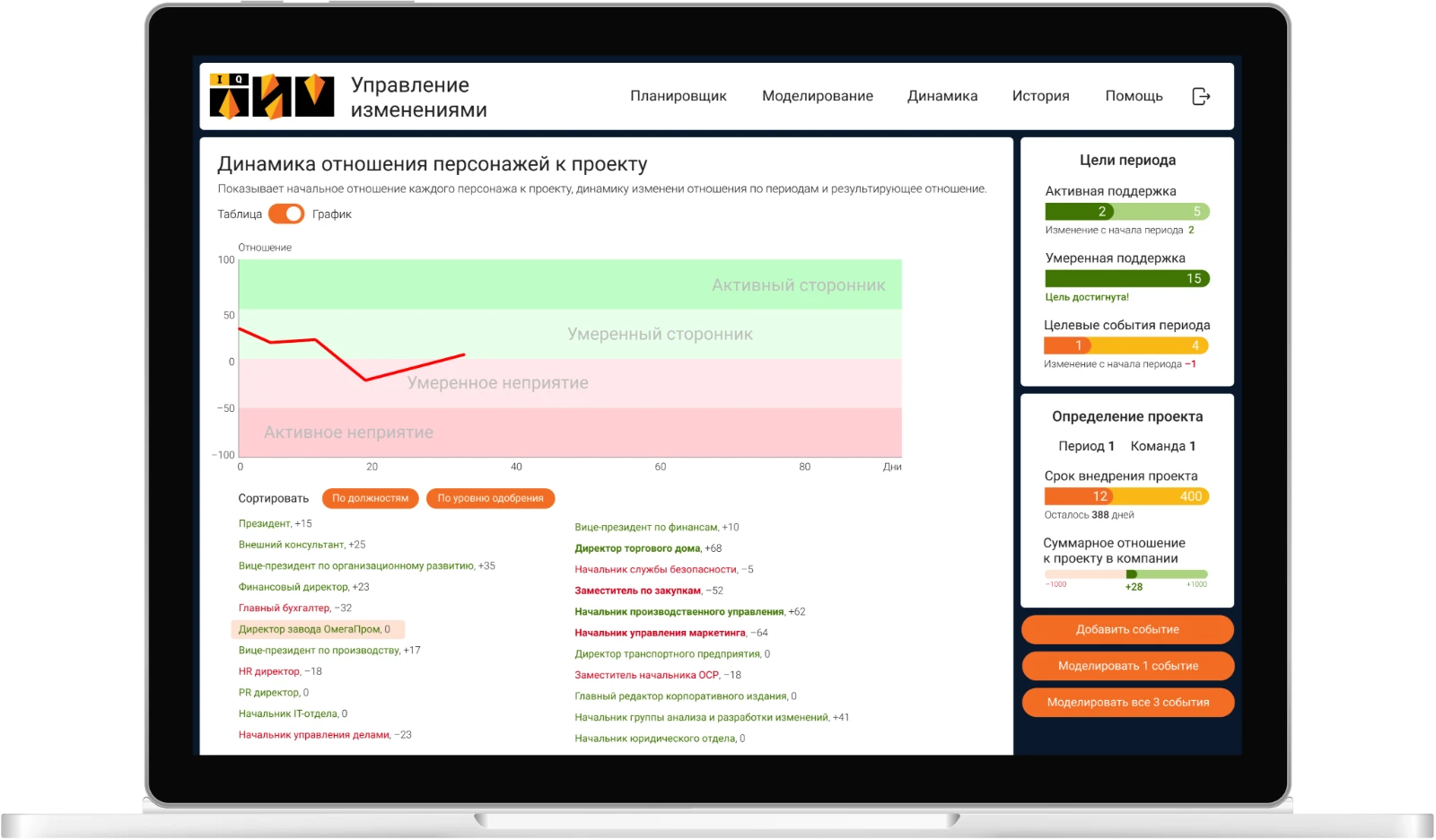 Change Management Business Game
Management Decision Modeling
Modeling the effects of parameterizable event chains. Analyzing interactions and character reactions.
Based on John Kotter's model
Developing the skills to manage the change phases of project management in a strategy that improves the efficiency of the organization's processes.
Flexible Changing Scenario
No predefined algorithm. The game situation changes as a result of the actions of the players and the random factor. Tough time conditions.
Modern Technologies
The computer model has been developed using modern technologies, allowing the seminar to be held both in person and via the Internet.
Goals and Objectives of the Change Management Business Game
Understanding the importance, types and structure of relationships between people and various activities in the company;
Testing in practice with the use of computer simulation in a competitive environment of theoretical material on the implementation of changes in the company based on the model of John Kotter;
Develop project teamwork skills under time constraints and competition;
The need to successfully implement a change project in the minimum number of in-game days and maximum character approval score;
Analysis of personal textual and numerical reactions of characters to events. Taking into account the personal characteristics of the characters. Analysis of the results in the form of graphs with different levels of detail.
Change Management business game allows you to clearly show the personal characteristics of a person and can be used to assess personnel according to the author's methodology specially developed for this seminar. Personnel assessment from the TIM Group involves a comprehensive analysis of the participants' competencies and the development of an individual development program.
Change Management business game is part of the modular training system offered by the TIM Group. The Business Game can be played as a stand-alone workshop to develop negotiation skills and financial literacy. Or it can be played in conjunction with different levels of theoretical training modules on finance and negotiation , as well as in conjunction with other Business games from the TIM Group.